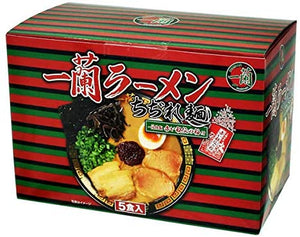 Product Introduction
Craftsmen poured research and passion, one orchid ramen finally souvenir products was completed.
【noodles】
The taste thinking things Ichiran customers stick to taste to the first we have done the research to the highest priority. We have formulated in the golden ratio expensive "powder" in very rare. There is rarely if you boil hard to loose time, but we penetrate the taste top priority.
 
【soup】
 Pork suppress the specific smell, it is a soup that was pulled out only taste to the maximum. By so far cultivated becoming the unique technology and many years research, we have succeeded in the development of sophisticated pork soup overturn the common sense.
[Red secret of powder]
It is not just a little bit. Pepper we have formulated a variety of spices to the base in the best state.
Again and again repeated blending and fine-tuning, and finished with a perfect balance by proprietary technology.
Ingredients / Materials
Oil Agemen (flour, lard, vegetable oil, salt), adjusted lard, pork extract, glucose, edible animal fats (pork, chicken), flavor oils, powder soy sauce, edible vegetable oil, onion, ginger, seasoning (amino acids etc.), fine silicon dioxide, flavoring, coloring (vitamin B2, caramel, charcoal), including brine, antioxidants (vitamin E), modified starch, partially milk components acidulant (raw materials, soybean, sesame )