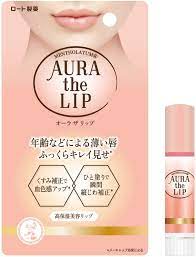 Aura the Lip is a beauty lipstick that makes your lips look beautiful when you start to notice age-related changes such as thinning and dry lines.

Mentholatum Aura the Lip is a highly moisturizing beauty lip product that makes lips that have begun to show signs of ageing, such as vertical lines and dullness due to dryness, look beautiful.
It contains four moisturizing beauty ingredients: jojoba seed oil, royal jelly extract, honey, and olive fruit oil. These ingredients moisturize even the keratinized layer of the lips, leading to lips with a sense of firmness. It also contains a warming ingredient, vanillyl butyl. The warm feeling lasts for a while.
The elegant pink color blends well with the skin, and just one application corrects dullness and increases the sense of blood color, creating a beautiful, natural look as if the lips themselves are colored. And the moment it's applied, it envelops the lips and replenishes their shine, giving them a plump look without the appearance of vertical lines.
It can be applied quickly for easy makeup before going out. You can also layer it on top of your regular lipstick for a more gorgeous look.


Precautions for use

Turn two to three dials and apply a light layer to lips.
Do not overdose as it will not return.