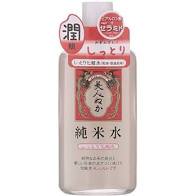 For those who are a little concerned about roughness
A lotion for dry and normal skin with a mild, essence-like feel that gives your skin plenty of moisture and leads to fresh, absorbent skin.

Rice bran extract is extracted from rice bran, which contains rich skin beautifying ingredients such as amino acids, vitamins E and B, polysaccharides, and rice bran oil. The Junmai series contains rice bran extracts developed by storks, which are made from the finest ingredients. Stork rice bran extract is an original rice bran ingredient developed by carefully selecting rice grown by the Stork Nurturing Farming Method (a farming method that nurtures safe rice and living creatures at the same time, where the stork, a special natural monument and endangered species, can live). It has been confirmed to have moisturizing and antioxidant properties and can be expected to have anti-aging effects* to maintain the skin's firmness, elasticity, and suppleness.

Moisture care for age-appropriate skin
Rice Bran Ceramide Protects Dry Skin
Ceramide is a major component of intercellular lipids that are necessary for the stratum corneum on the surface of human skin to function as a barrier. It is lost due to dryness and damage and decreases with age. Rice bran ceramide replaces the lost ceramide, retains moisture in the stratum corneum, and protects the skin from external stimuli, thus preventing dryness and roughness and keeping the skin moist.

Fermented rice bran extract to support skin strength
Fermented rice bran extract is obtained by adding yeast to rice bran and fermenting it. Fermented rice bran extract contains vitamins B and E, minerals, ferulic acid, gamma-oryzanol, and other skin-beautifying ingredients. Fermented rice bran extract has been shown to increase factors related to moisture retention and barrier function at the genetic level, and is expected to enhance the skin's natural ability to become healthy and beautiful on its own.