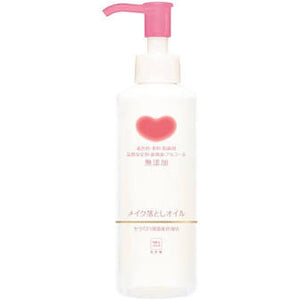 Melts away even the toughest makeup!

Just blend it lightly to remove makeup
Quickly lifts off makeup
Removes makeup without leaving any residue.
You can use it on wet hands and face.
Can be used on wet hands and face.

Additive-free
No colorants, fragrances, preservatives, quality stabilizers, mineral oil, or alcohol may cause allergies.

Carefully selected ingredients and hypoallergenic formula
We carefully select ingredients to create formulas that are less irritating to the skin.
For example, facial cleanser. Amino acids are the source of the proteins that make up our skin. This product contains amino acid-based cleansing ingredients made from amino acids. The result is a formulation with minimal irritation to the skin.

Tested for skin allergies
All of our products have undergone skin allergy testing, and only formulas that have passed the test are used.

Contains naturally occurring ceramide (moisturizing ingredient)
Contains naturally-derived ceramides (moisturizing ingredients) that have the same structure as ceramides found in the skin and have high moisturizing power. It protects the moisture of your skin, which tends to become delicate due to dryness.

Ingredients ・ Raw materials

Octyl palmitate, PEG-20 glyceryl triisostearate, cyclomethicone, water, PCA-Na, PEG-12 laurate, PEG-7 glyceryl cocoate, decyl glucoside, isostearic acid

Precautions for use

Rinse thoroughly without rubbing if it gets into your eyes or if you notice any abnormalities (such as blurred vision). If any abnormalities remain, consult an ophthalmologist.
Remove contact lenses before use.
Do not use if you have any skin problems or if you notice any abnormalities.
Keep out of reach of infants.
Do not store in high temperatures or in direct sunlight.
Use as soon as possible after opening the package.
This product may freeze in extremely low temperatures. In such a case, return to room temperature before use.