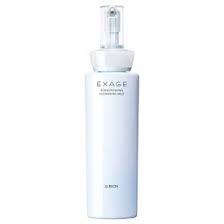 Cleansing milk that removes makeup and dirt while caring for the skin
The smooth texture of this cleansing milk gently absorbs into the skin and removes makeup and dirt as it lifts away. After removal, skin is left bright and supple.

How to use

<For cotton>
Saturate a cotton pad with an appropriate amount (about 3 pumps), blend thoroughly with makeup and dirt, and wipe off. Replace the cotton pad and repeat until no more dirt remains.

For palms< For palms>
Apply an appropriate amount (about 2 or 3 pumps) to the palm of your hand and blend thoroughly with make-up and dirt. Then wipe off with tissue paper, being careful not to rub too hard, or rinse with water or lukewarm water.