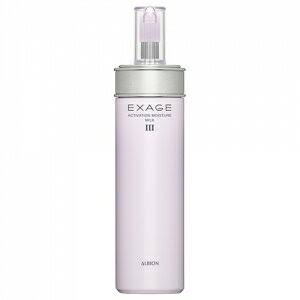 Densely moisturizes the stratum corneum, which tends to be disorganized. Skin feels plump and supple. Actively supports the skin (stratum corneum) by filling every nook and cranny with rich moisture. This emulsion for dry skin leads to supple skin that is moist and full of moisture. With a rich, moisturizing feel, it penetrates the skin (stratum corneum) as if melting into the skin to maintain the skin's moisture balance and make it plump and supple.

What is Albion's milky lotion?

Albion's answer to this question was, "Use a milky lotion first after cleansing your face. That was Albion's answer. Because we want to deliver what makes freshly washed, clean skin most happy first. This is the Albion way of skincare that has been arrived at without being bound by common sense or rules. We deliver beauty that starts with emulsion, which has not changed since our founding.

Why after cleansing? What freshly washed skin needs most is the moisture that it already has. Albion's emulsions are made with an ideal balance of moisture, oil, and moisturizing ingredients that are close to the moisture of the stratum corneum. If you give your skin what it needs most after cleansing, it will easily penetrate into the stratum corneum and maintain the moisture balance, keeping your skin healthy and soft.

Remove makeup, sebum, and other debris to cleanse the skin.

STEP2 Softening (Emulsion) Gives skin the moisture it needs to become soft and supple.

STEP3 Toning (Lotion) Freshens and tightens skin to improve texture.

STEP4 Active (Serum, Cream) Actively supports skin to maintain its vitality.

The appropriate amount is 3 pumps. The right amount is the amount of moisture that your skin needs. It is said that the stratum corneum has about 10 layers in total. Albion's milky lotion is designed to spread moisture not only to the surface of the skin but to the entire stratum corneum. For this purpose, about three pumps (one teaspoonful) of emulsion is the right amount.

Softness is beauty. Skin that has been given the moisture it needs, in the amount it needs, will have a lustrous, absorbent softness, and will be filled with moisture, leading to "clear and supple skin" with a plumped texture.

After using Albion's emulsion, your skin will be... soft and glowing to the touch!

Skin with a luster and full of moisture

Skin texture is plump and smooth, with no visible pores.

Skin with a well-balanced beauty rhythm

Skin that is less susceptible to external stimuli such as friction

Why don't you start using Albion's milky lotion to achieve clear and supple skin?