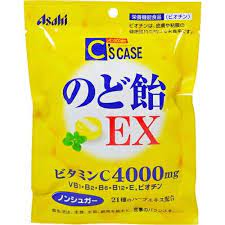 Seacase Throat Lozenges EX 92g" is a throat lozenge containing vitamin C (4000mg), vitamin B1, vitamin B2, vitamin B6, vitamin B12, vitamin E and 21 herb extracts, equivalent to 200 lemons per bag. It is a non-sugar type.
This product is not a food for specified health use, and has not been individually reviewed by the Ministry of Health, Labor and Welfare.
*Please follow the recommended daily intake.

How to use

Take 4 to 5 capsules per day.

Ingredients

Reduced Palatinose
Herbal extract
Vitamin C
Sweetener (aspartame L-phenylalanine compound, stevia)
Flavoring agent
Acidulant
Colorant (gardenia)
Vitamin E
Vitamin P
Vitamin B2
Vitamin B1
Biotin
Vitamin B12

Nutrition Facts

(per 88g)
Biotin 132μg
Vitamin B1 0.3mg
Vitamin B2 0.6mg
Vitamin B6 0.8mg
Vitamin B12 2.9μg
Vitamin C 4000mg
Vitamin E 4.0mg
Biotin (per 4 tablets) 24μg

Precautions for use

Do not eat too much at one time or your stomach may become irritated.
If you eat too much at one time, it may cause a loose stomach.