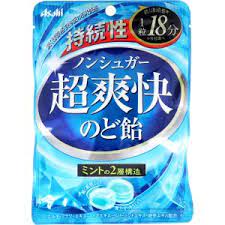 A refreshing sensation that lasts for 18 minutes.
One tablet lasts for 18 minutes. Two layers of strong refreshing mint and refreshing mint.
The refreshing strong mint flavor is sugar-free, which is great for those who are concerned about calories.
Contains elderflower extract, peppermint extract, and beet tea extract.

Ingredients

Reduced palatinose (made in Germany), reduced syrup, elderflower extract, herbal extract, peppermint extract powder, beet extract powder/flavoring, sweetener (acesulfame K, sucralose), gardenia color

Nutrition Facts

Nutritional information (per 1 product (68g))
Energy ... 182kcaL
Protein ... 0g
Fat ... 0g
Carbohydrate: 67g
Sugars ... 0g
Salt equivalent・・・0g
1 grain (approx. 3.8g) is 10kcaL.

Precautions for use

Caution: Eating too much at one time may cause stomach upset.
Please consume as soon as possible after opening the bag.

Storage and handling precautions

Store at room temperature away from direct sunlight, high temperature and high humidity.