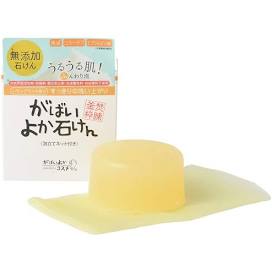 The soap is additive-free, free of synthetic surfactants, preservatives, antioxidants, synthetic colors, and synthetic fragrances.
The soap base is made by cooking various fats and oils such as horse oil in a kettle, which requires a lot of time and skill, but produces a high quality soap with high moisturizing properties.
The high content of horse oil removes dirt while moisturizing the skin.
You can also wash your face with it to remove makeup.
You can also remove makeup by washing your face with it.
Comes with a refreshing lemongrass scent.
Lathering net included.

Washes up moist and smooth.