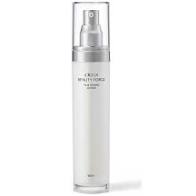 A full-face skincare series that harnesses the power of beautiful skin!
It provides a casual yet luxurious skincare experience.

How to use

After cleansing your face in the morning and evening, dispense an appropriate amount (about 2 pushes) into your hands and carefully apply as if you were patting the product all over your face.
To finish, warm your face with the palm of your hand and press gently.

The first time you use it, the lotion will be absorbed into your skin very quickly.
Apply two pumps at a time, then press with your hands, then apply again, and so on until you feel like you can't apply anymore.
The more you apply, the more your skin will retain water, and the less of the product will enter your skin.
When you feel that 2 pushes are enough, your skin will be soft, shiny, and moisturized.