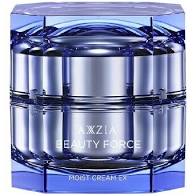 A luxurious finishing touch to your daily skincare routine. A finishing cream packed with multiple beauty benefits (texture, luster, firmness, elasticity, and moisture) for high-quality, attractive skin.
The Mussel Adhesive Protein (MAP) contained in the newly formulated*1 Mussel Extract is a remarkable ingredient that has anti-aging effects on firmness and elasticity, and also acts as a barrier (skin protection function) by wrapping the beauty ingredients in the formula like a veil on the skin surface.

How to use

As the final step of your skincare regimen, dispense an appropriate amount (about 0.3g, the size of a pearl) onto your hands and gently blend over your face. The product is designed to have a smooth texture that can be used every day, morning and evening, regardless of the season.