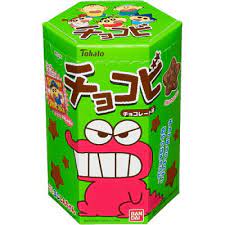 Chocobi, the favorite snack of the main character of the anime "Crayon Shin-chan," has become a real snack.
The dough contains less than 20% breadcrumbs, which makes it even more delicious.
This chocolate-flavored snack contains calcium, which is great for children.
A Crayon Shin-chan sticker is included in the package.
Tohato is a confectionery manufacturer famous for Caramel Corn, Poteco, and Nagewa.

Caution (Disclaimer) > Please read carefully.
Please keep out of direct sunlight and high temperatures and humidity.