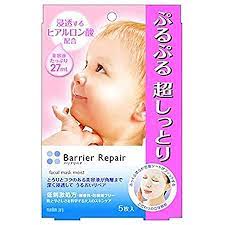 The rich and thick serum penetrates deep into the stratum corneum and repairs moisture to delicate skin.
The soft and fluffy sheet is cut in three dimensions for a perfect fit.
Contains hyaluronic acid that penetrates deep into the stratum corneum.
Provides a highly moisturized feeling with just one application. For ultra-moist, plump and supple skin.

This product is a super moist type that holds in plenty of moisture.
Contains a rich, thick serum with high penetrating power. It contains a rich, thick serum with high penetrating power, so you can get a highly moisturized feeling in just one application.
Contains penetrating hyaluronic acid.
Contains twice the amount of nano-hyaluronic acid (compared to our conventional products), which is 1/100th the molecular weight of ordinary hyaluronic acid, making it easier to penetrate into the stratum corneum.
Baby Water Lipid (Moisturizing)
Contains water-retaining ingredients (such as lecithin hydroxide) whose structure is similar to that of fetal fat.
The ultra-soft sheet won't peel off even when you look down
The multi-layered sheet is very soft against the skin and has a high water retention capacity, so it contains a lot of essences and does not drip easily.
The sheet is cut to fit within the contours of Japanese women, so it does not cover the hairline and does not peel off even when you look down.
Three-dimensional cutting based on research of women's face shape. By overlapping the slits, it fits tightly around the eyes and mouth, even in the creases, for a long-lasting tight fit.
Hypoallergenic formula. 
Preservative-free with alkanediol.
Preservative-free. Patch-tested and sting-tested.
Patch and sting tests have been conducted, but not all users will experience skin irritation.
Fragrance-free*1 and colorant-free.

1 Although this product is fragrance-free, the subtle scent you may notice during use is due to naturally occurring moisturizing ingredients.