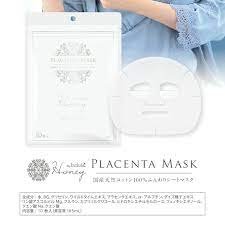 To prevent leakage, drying out of the mask, and foreign matter from getting into the mask, close the zipper properly after use and store with the zipper part facing up. To prevent leakage, drying out, and contamination, close the zipper tightly after use. Store in a cool place, away from extremely high or low temperatures and in direct sunlight. Keep out of the reach of infants. Keep out of reach of children. The mask may contain residue from the mouth part of the mask.

How to use

After cleansing your face, apply the mask snuggly to your skin, adjusting the folded part so that it does not go into your eyes. Adjust the mask so that the folded part does not touch your eyes. 10-15 minutes is recommended for each mask time.

Ingredients ・ Raw materials

Water, BG, glycerin, wild thyme extract, placenta extract, alpha-arbutin, soybean seed extract, ascorbyl mg phosphate, pullulan, caprylyl glycol, hydroxyethyl cellulose, phenoxyethanol, sodium citrate, citric acid.