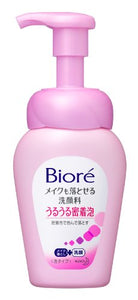 A foam cleanser that removes makeup and cleanses the face at the same time.
The formula is a "close contact foam cleansing. The fine foam that comes out with just a push of the button adheres to the skin's texture and pores, removing both makeup and sebum at once.
Enriched with beauty lotion ingredients* (moisturizing ingredients) to leave skin fresh and moisturized.