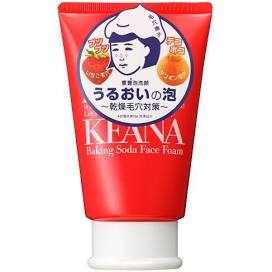 kin will be moisturized and beautiful.

For strawberry pores! For bumpy dry pores! Cleanses and loosens deep into pores. Moisturizing foam with baking soda.

Dry and hardened dead skin cells block pores and mix with sebum to form keratin plugs. Expand the pores. Baking soda lifts dead skin cells from deep within pores and removes them easily.

Dry, hardened dead skin cells accumulate and hold the pores open. The baking soda-infused foam softens and rinses away the tickly dead skin cells.

The moisturizing power of the baking soda foam + hyaluronic acid + collagen.

The texture is as fine as whipped cream. And it doesn't crumble easily! It also cleanses dry pores.

You'll enjoy washing your face every day... You'll end up with plump and beautiful skin!

Moisturizing foam face wash for dry pores. The baking soda contained in the whipped cream-like foam lifts keratin plugs from deep within the pores and removes them easily.