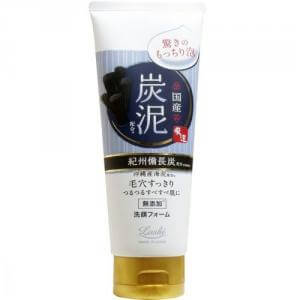 Everyday face wash made with domestic ingredients. This facial cleansing foam is used every day, so we chose to use domestic materials that are gentle on the skin. The rich lather gently envelops your skin.
Contains Kishu-binchotan charcoal and Okinawan kucha (sea mud). Kishu binchotan and Okinawan kucha (sea mud) combine to remove dirt and melanin from pores and dead skin cells with the adsorptive power of charcoal and mud, leaving your skin pores clean and smooth.


Contains Binchotan from Kishu and sea mud from Okinawa!
Kishu binchotan charcoal from Wakayama and sea mud from Okinawa, both precious domestic materials, are blended together.
The fine particles of charcoal and mud contained in the chunky foam adsorb sebum and dirt deep inside pores and rinse away, leaving your skin smooth and shine-free.