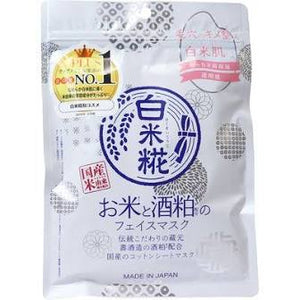 It is rich in rice-derived beauty ingredients.
Pore care: Pores are plumped and smoothed with the moisture of rice.
Pore care: Smoothes pores with rice moisture.
・Transparency: Rice ingredients penetrate into the keratinized skin layer.

How to use

(1) Before use, remove makeup and wash your face to make your skin clean. Blend in lotion to prepare your skin.
(2) Take the mask with clean hands and fit it on your face, aligning it with the eye and mouth area.
(3) Leave on for 10-15 minutes, then peel off the mask.
(4) Blend the remaining serum into your skin with the palm of your hand. Then, apply your skin care regimen as usual.