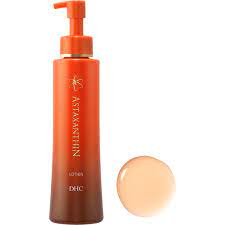 DHC Astaxanthin Lotion is a lotion that contains nano-sized Astaxanthin, an ingredient that is attracting attention for its ability to give skin elasticity and maintain youthfulness.

1. Contains astaxanthin! A lotion that provides firmness and moisture that transcends age
Astaxanthin combats damage caused by aging and UV rays. Its high moisturizing power helps keep skin smooth and supple. In addition, a variety of cosmetic ingredients have been added to address age-specific skin changes. With its excellent penetrating power, it reaches deep into the skin as if it were absorbed into the skin, keeping the skin soft and supple.

Fragrance-free, colorant-free, paraben-free, and contains natural ingredients.

2. Astaxanthin and a variety of beauty ingredients for firm and moisturized skin
Damage caused by aging and UV rays can damage skin cells, causing wrinkles, sagging, and other skin problems. Astaxanthin is an ingredient that addresses this damage and provides moisture to the skin. DHC Astaxanthin Lotion uses high quality astaxanthin derived from hematococcus algae*. The extraction and processing processes are meticulous, and the product is formulated in nanosized form using advanced technology.
The micronized astaxanthin penetrates deep into the stratum corneum and exerts its power from within the skin. In addition, collagen, hyaluronic acid, elastin, and placenta, which are essential for elasticity, moisture, and transparency, as well as acetylglucosamine, which promotes the production of hyaluronic acid, and other beauty ingredients support the power of astaxanthin. A wide variety of ingredients approach the skin one after another to provide softness and moisture, while strengthening the skin's natural ability to generate moisture.
A freshwater, single-celled green alga that accumulates astaxanthin in its cells.