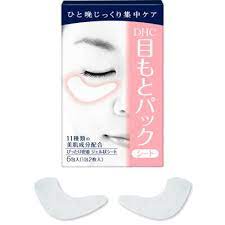 DHC Eye Pack Sheet is a gel-like beauty sheet that softens dead skin cells while olive leaf extract and other botanical moisturizing ingredients moisturize and firm the eye area. The gel-like beauty sheet has a flexible fit that prevents peeling and is gentle to the skin without painful peeling. It is also safe for thin and sensitive skin.
Fine lines and sagging skin around the eyes are a particular concern. This is because although the skin around the eyes is thin, we blink repeatedly about 5,400 times a day. In addition, the area around the eyes tends to be dry with little sebum secretion. Give your eyes a good night's rest with a gel beauty sheet filled with beauty essence.

Fragrance-free, colorant-free, paraben-free, contains natural ingredients and is slightly acidic.