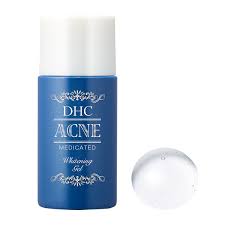 DHC Medicated Acne Whitening Gel is an acne whitening serum that not only prevents chronic and recurring acne but also provides intensive whitening* care. It contains dipotassium glycyrrhizinate and allantoin, which prevent acne, as well as vitamin C derivative, a whitening* ingredient that approaches whitening. It prevents dark spots and pigmentation caused by acne and gives you a radiant, clear look.
The fresh texture of this water-gel formula is non-sticky and penetrates deep into the stratum corneum. Helps prevent acne and whitening* at the same time.

Fragrance-free, colorant-free, paraben-free, and contains natural ingredients.

*Suppresses melanin production to prevent spots and freckles.