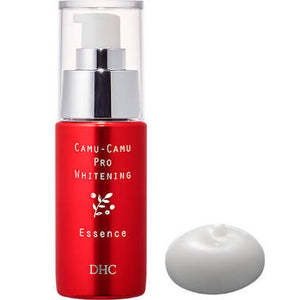 For clearer, smoother skin. Medicated ingredients + camu camu power for clear and beautiful skin

The DHC Medicated Cam-C Pro Whitening series contains extracts from camu camu fruit and a total of six transparency-supporting ingredients to lead to plump, bright, and beautiful skin.

DHC Medicated Cam-C Pro Whitening Essence is a medicated whitening serum with a rich, moderately thick texture that delivers moisture to skin that is concerned about dullness*1 and loss of elasticity, giving it clarity* and supple firmness and luster. It also contains a variety of skin beautifying ingredients such as ceramide and hyaluronic acid.

It penetrates deep into the stratum corneum, leading to smoother, fresher, more translucent* skin and diminishing the appearance of fine lines and wrinkles caused by dryness*2.

Fragrance-free, colorant-free, paraben-free Contains natural ingredients.

*By providing moisture and improving texture.
1 Due to dryness
2 Efficacy evaluation tests have been conducted.

Moisturizing, brightening, and radiant skin for adults

This skincare series contains medicated whitening ingredients*1 that suppress melanin production and prevent spots and freckles, and medicated ingredients*2 that prevent skin irritation, plus camu camu fruit extract*4 that approaches clarity*3 and beautiful skin.

Each item contains a well-balanced combination of different clarity*3 supporting ingredients and skin beautifying ingredients for mature skin. By using the series as a whole, you can take a comprehensive approach, leading to moist, moist, whitening skin.