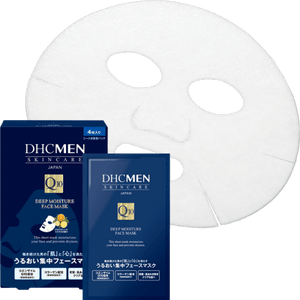 A new habit for smart men! Once a week, free your working skin and mind with a face mask!
Why don't you make time to reset your skin and mind with DHC MEN Deep Moisture Face Mask even once a week?
DHC MEN Deep Moisture Face Mask is the ultimate healing item proposed by the DHC MEN series for men who are working hard. The face mask has all the features of the DHC MEN series, such as beauty moisturizing ingredients that lead to clear and fearless skin that makes you look like a successful man, an aromatic scent that relaxes the mind of men who tend to be tense, and ingredients that focus on the process that causes unpleasant odors in men.
Just by applying the mask to the face for about 10 minutes, it intensively recharges the skin with moisture, leading to younger looking skin. It is alcohol and menthol free, so it is safe even after shaving.
The gentle scent of "Aromatic Citrus", a blend of natural essential oils, will not only help your skin but also your tired mind, so I recommend that you consciously make the 10 minutes you spend wearing the mask your relaxation time. This is a special time for men who work hard and don't take time to relax.