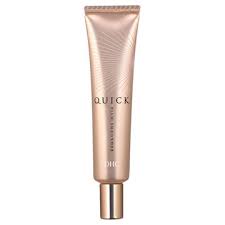 The area around your eyes and mouth will feel instantly refreshed! A thick gel serum that can simultaneously provide thorough care
Wrinkles are one of the most common signs of age. Wrinkles are one of the most common signs of age, and many women want to get rid of them right away. This is the sincere wish of many women. DHC Quick Film Smoother was developed in response to this desire.
It contains a "Quick Film Smoother" that instantly forms a physical film, a "Slow Smoother" that works slowly and deeply, and beautiful skin ingredients that help make aged skin more supple. When used at the end of the skincare routine, the film that forms on the skin gives a feeling of firmness while moisturizing and plumping the areas of concern.
The gel-in-oil structure wraps the gel film with a film of oil, so there is no need to worry about the crispy feeling caused by excessive dryness that is common with film-based serums.
This product is recommended not only for those who want to manage the signs of aging but also for those who have started to worry about fine lines and wrinkles. It can be used for intensive care while sleeping or as a base for makeup in the morning, so just add it to the end of your regular skincare routine.

It is fragrance-free, colorant-free, paraben-free, and contains natural ingredients.

Three types of "quick smoother" to achieve a "firmer" and "more immediate" look
Even the wrinkles and sagging skin you are worried about will disappear when you spread them out with two fingers. This is because wrinkles and sagging skin are physically stretched out. DHC Quick Film Smoother contains three types of "quick smoother" (ESM, microalgae extract, and cross-linked hyaluronic acid particles) that work physically in this way. It instantly forms a transparent film on the skin, bringing a sense of firmness to the skin.

Three types of "slow smoother" that work slowly from deep within
Deep wrinkles are the result of the growth of shallow fine lines caused by dryness and other factors. Let's take care of them from deep within before they grow and become more serious! DHC Quick Film Smoother contains two types of plant stem cell extracts and a soybean-derived protein complex that works slowly. These three ingredients act as a "slow smoother" and lead to younger and firmer skin from deep within.

The gel-in-oil structure creates a long-lasting mild firmness.
When you hear the words "physically acting film," you may be concerned about the texture and irritation. The crispy feeling is often caused by the gel drying out too quickly. That's why "DHC Quick Film Smoother" has adopted a "gel-in-oil structure" in which the outer layer of gel is wrapped in a film of oil. The oil prevents the gel from drying out excessively, so the mild firmness is maintained for a long time.

It's not just for spreading! A variety of beautiful skin ingredients for fresh and plump skin
The process of fine lines and wrinkles developing into age spots is greatly affected by aging and dryness. This is why "DHC Quick Film Smoother" contains "Quick Smoother" and "Slow Smoother" as well as a proteoglycan, which has a water retention capacity that surpasses that of hyaluronic acid, and triple-helical collagen (fresh collagen), which is highly water-retaining and blends well with the skin, to strengthen its ability to support beautiful skin. This product leads to fresh moisture and plump, soft, elastic skin.