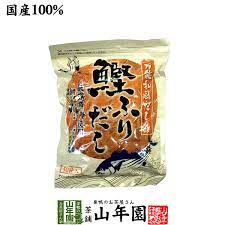 Product Name】Katsuo Furidashi 【Product Category】Seasoning 【Contents】440g(8.8g×50packs)

Ingredients] salt, dried bonito flakes, dried mackerel flakes, dried sardine flakes, kelp, shiitake mushroom powder, sugar, soy sauce powder (soybeans, wheat), seasoning (amino acids, etc.), L-type fermented calcium lactate (lactose, casein) [Origin] Japan

Storage] Store at room temperature.

Storage] Store at room temperature. Avoid high temperature, high humidity, and direct sunlight. Shelf life: 12 months from date of manufacture.

A word from the store manager] This is a Japanese style dashi made with domestic flavored ingredients and natural ingredients.