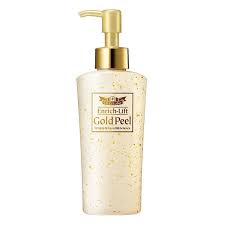 A 30-second massage with gold leaf will leave your skin moist and smooth.
For those who are concerned about roughness, dullness, and poor make-up application. Just massage your skin for 30 seconds, and you'll see amazing changes in just one session. The gel with gold leaf blends easily into the skin when applied. By gently massaging the gel into the skin for 30 seconds, you can soften and tone your skin while caring for dead skin cells, and make your skin firm with the power of pure gold. Contains "gold lift ingredients (gold colloid and platinum colloid). Moisturizing power is also improved. Leaves skin moist and supple.

Directions for use

After cleansing your face, dispense an appropriate amount (2-3 pushes) onto your hands and spread over your face, gently massaging in circular motions with your fingertips until the skin begins to exfoliate. Gently massage in a circular motion with your fingertips until you start to feel a glow. After use, rinse thoroughly with water or lukewarm water.
Gently massage the gel into the skin, avoiding areas with thin skin such as around the mouth and eyes.

Precautions for use

If the product does not agree with your skin, or if you notice any redness, swelling, itching, or irritation, discontinue use.
If any of these symptoms occur, discontinue use.
This product is not intended for use on wounds, rashes, or other skin problems.