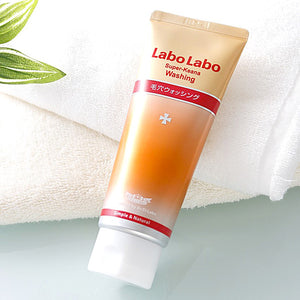 A new and improved facial cleanser that works on a wide range of pore problems, such as blackhead pores caused by clogged and oxidized keratin plugs and sagging pores caused by dryness!

While removing dirt and grime, it dissolves stubborn keratin plugs and rough pores, and tightens open pores.
With the addition of superior moisturizing ingredients, your skin will be moist and plump after cleansing.
It helps to reduce the appearance of pores.


Facial cleansing foam that approaches all kinds of pore problems

A facial cleanser that gently removes pores with Labo Labo's original advanced cleansing ingredients. The naturally-derived lactic acid creates a thick foam that removes blackheads and keratin clogs from pores.