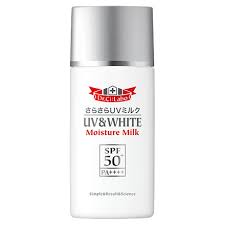 Net-shaped stretchable polymer containing spherical powder fits perfectly and evenly on the surface.
It corrects pores and gives the skin a smooth finish.

The polymer also captures excess sebum to prevent shine and makeup buildup.

Blemishes, open pores, dullness, and uneven color create shadows on the face, giving a dark impression. Not only does it protect against UV rays, but it also fits tightly and smoothes the surface of the skin, preventing makeup from falling off and making the skin a tone brighter.

How to use

Take an appropriate amount (about 2 pearls) and spread it evenly over your face.
Approximate usage period: 3 to 4 months (when used on face).
The area below the elbow is almost the same as the area of the face. Please use this as a guide when applying to areas other than the face.

Be careful not to forget to apply the sunscreen!
It is easy to forget to apply to the neck, chin, décolleté, collar, legs, neck, arms and back of hands.