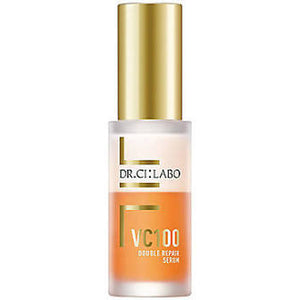 Contains high penetration*1 Vitamin C Triple Shot*1
A two-layer skincare serum that leads to beautiful, flawless skin

Essence layer*2 and emulsion layer*3
The essence layer*2 (containing high penetration*1 vitamin C triple shot*1) and the emulsion layer*3 (containing four types of ceramide*2) mix in a unique balance to maintain fresh and healthy skin.
High penetration*1 Vitamin C Triple Shot*1
Approaches daily skin stress*4. High penetration*1 Vitamin C Triple Shot*1 tackle daily skin stress*4, leading to smooth, flawless skin.
Ceramide*2 high penetration*1 formula*5
It works on the skin barrier to maintain moisture to protect the skin.

1 To the stratum corneum
2 Lower layer containing vitamin C
3 Upper layer containing ceramide
4 Dryness, etc.
5 V Double R Essence
1 Ascorbyl phosphate 3Na palmitate, 3-O-ethyl ascorbic acid, ascorbic acid, platinum, phenyl ethyl resorcinol, colloidal gold, glutathione (skin conditioning ingredient)
2 Ceramide EOP, Ceramide NG, Ceramide NP, Ceramide AP (moisturizing ingredients)

Directions for use

1) Shake the container well before use.
(2) After cleansing and toning your skin, dispense an appropriate amount (2-3 pushes) onto your hands and apply to your face. Then, apply moisturizer.