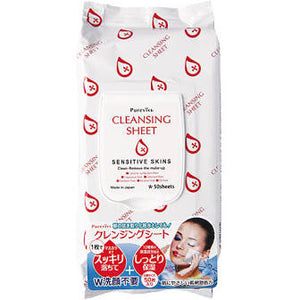 A single sheet that can be used to remove makeup and moisturize.
It can also be used as a lotion for wiping off in the morning.
Contains 12 kinds of moisturizing ingredients such as aloe vera leaf extract and glycosyl trehalose.
Aloe Vera leaf extract, glycosyl trehalose, and 12 other moisturizing ingredients!
Fragrance-free, colorant-free, non-oil, non-paraben, alcohol-free, and cationic activator-free.
No fragrance, no colorant, no oil, no paraben, no alcohol, and no cationic activator, making it a gentle and hypoallergenic formula.