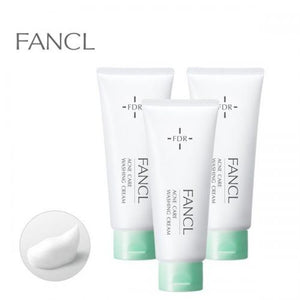 Product Introduction
It is a medicated acne care face wash that cleanses the sebum and dirt from the pores that cause acne. It is a face wash that removes pore-clog ging and makes your skin smooth. The fine creamy foam protects moisture and cleanses the skin of excess sebum and dead skin cells that cause acne.
This is the first time I've seen a product that is so effective at removing acne. This is an acne care line that makes the skin itself less prone to acne. This is something that FANCL can do because they have been researching acne care that can be achieved without additives.
In order to prevent acne, FANCL does not use any disinfectants. No preservatives, fragrances, synthetic dyes, or petroleum-based surfactants are added. With our carefully selected "Chinese plant extracts", the skin itself is conditioned to be less prone to acne, thus eliminating repeated acne.

Usage and Dosage
Suggested Use] Approx. 2cm [Days of Use] 90g: Approx. 30 days [Freshness Period] Within 120 days after opening Unopened: Within 3 years Preservatives, fragrances, synthetic dyes, petroleum surfactants, and UV absorbers are not used.

Ingredients ・ Raw materials
Ingredients] Glycyrrhizic acid 2K, purified water, concentrated glycerin, myristic acid, stearic acid, K hydroxide, BG, lauric acid, a mixed solution of glycosyl trehalose and hydrogenated starch degradation products, palmitic acid, sorbitol, sodium coconut fatty acid methyl taurine, glycerin SE stearate, PEG 4000, POE glyceryl isostearate, peony extract, Chinese ginseng extract, perilla extract-1, prune enzyme degradation product, then powder, coconut oil fatty acid acyl glycine K solution, di(isostearyl/phytosterol) diallylate, dimethyl diaryl ammonium chloride acrylamide co-polymer solution, phosphoric acid 1 Phosphoric acid 1K, phosphoric acid 2Na, natural vitamin E, d-δ-tocopherol