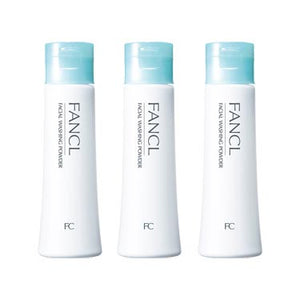 A powder cleanser that washes away sebum, dead skin cells, and blackheads while protecting moisture. The dense, chunky foam removes unwanted stratum corneum such as sebum, keratin plugs, and blackheads while protecting moisture. This cleanser makes the skin more receptive to subsequent makeup solutions and reduces the appearance of fine lines and wrinkles caused by dryness. (*)
*Efficacy evaluation test conducted.

Usage and Dosage
Recommended dosage
1 teaspoon or 1 packet
Number of days of use
50g: Approx. 30 days, 50 packets: Approx. 25 days *Use morning and evening

Ingredients ・ Raw materials
Hydroxypropyl methylcellulose, talc, alpha-glucan, sodium myristoyl glutamate, sodium laurate, canthene, K laurate, hydroxypropyl starch phosphate, aminoethanesulfinic acid, stearic acid, lauramidopropylamine oxide, silica, serine, sorbitol Sorbitol, glycerin, allantoin, dextran hydroxypropyltrimonium chloride, K palmitate, sodium palmitate, lauric acid, polyglyceryl-10 oleate, tocopherol.