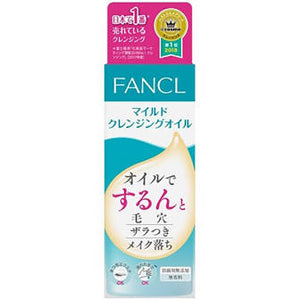 Makeup remover that easily removes makeup without effort and without rubbing
Contains "Smoothly Remove Oil" that quickly blends with even hard-to-remove makeup such as waterproof makeup and instantly removes it without rubbing.
It maintains the barrier function of the skin, leaving it moisturized and clean.
Also, the "keratin plug clearing oil" works to remove even more dirt.

Power up by optimizing the combination of carefully selected oils!
This revolutionary cleaning product combines various oils in an optimal balance in order to quickly blend with any type of makeup and remove it cleanly. This cleanser has been upgraded from conventional oil to have the ability to blend even more quickly with waterproof mascara and eyeliner. With just a light stroke, it blends into each individual lash and removes layers of makeup beautifully.
Smoothes on without rubbing Eliminates the stress of friction that can cause dryness and fine lines.
With a light, water-like touch, it quickly blends into makeup. The light, watery touch blends quickly into makeup, eliminating the stress of friction that can cause dryness and fine lines. Its smoothness and cushioning properties protect bare skin, making it a stress-free texture.
Reset to bare skin as soon as you rinse off quickly and cleanly
The amount of oil with a molecular structure that easily blends with water has been increased by 1.6 times*. Therefore, when rinsing off, the oil is instantly dispersed. It rinses off quickly without rubbing the skin and leaves no sticky residue.

Additive-free
Ingredients that are not necessary for the skin are stressful for the skin. That is why we do not use any preservatives, disinfectants, petroleum surfactants, fragrances, mineral oils, UV absorbers, or synthetic dyes.
Cleansing without rubbing
The stress of daily rubbing can cause skin problems such as dryness and fine lines in the future. This is why it is important to use a gentle cleanser that can be easily removed.