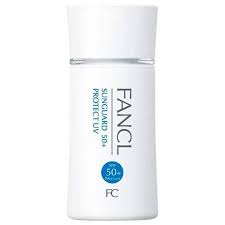 Blocks the skin from strong ultraviolet rays and external stimuli!
Thoroughly blocks strong ultraviolet rays with the highest SPF and PA values in Japan.
This milk lotion is resistant to sweat and sebum, and protects the face and body from not only UV rays but also various external stimuli and photoaging.
Ideal for outdoor activities, leisure activities, and when out for long periods of time.

How to use

Recommended amount for use
Amount equivalent to 2 500 yen coins (for face and arms)
Please adjust the amount according to the area of use.
Shake well before use.
If using with "Skincare Base (makeup base)", please use "Sun Guard" first.
How to remove makeup
Face ⇒ Use cleansing oil, then wash once with a facial cleanser.
Body ⇒ Wash twice with a body shampoo or other cleanser. (You can use cleansing oil for speedy removal.)
SunGard 50+ Protect UV is a water-resistant product, so parents are advised to remove it thoroughly when using it on children. Also, if used on the body, use of a body towel is recommended for removal.