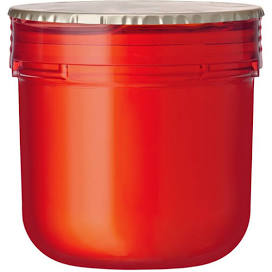 Apply a drop of red to clean, freshly cleansed skin. The nano-penetration (*1) power of this product penetrates into every detail of the stratum corneum. Moisture is retained, texture is improved, and skin becomes radiant and glowing. Creates a solid foundation for skincare (*2). *1: Penetrates into the stratum corneum *2: Provides a solid skincare foundation

Directions for use

1) Apply to cleansed skin. 1) Apply to cleansed skin. 2) Take a slightly large pearl-sized amount and lightly spread the jelly in your palm. 3) Wrap your face in your palm to warm it up and blend the jelly into your skin. 4) When your skin feels firmer and more absorbent in your hands, continue with your regular care routine.

Ingredients

Damask rose fragrance, moisturizing ingredients
W human-type nano ceramide(*4) ・Nano astaxanthin(*5) ・Nano lycopene(*6)
3 kinds of collagen (*7) ・Ascenya extract
(*4) Contains human-type nano-ceramide (ceramide NP, ceramide AP) and human-type nano-acylceramide (ceramide EOP).
*5 Hematococcus pluvialis oil
*6 Tomato fruit extract
*7 Contains acetylhydroxyproline.

Full list of ingredients
Water, Glycerin, Betaine, (PEG-240/Decyltetradeceth-20/HDI) Copolymer, BG, Ascorbyl Palmitate, Ceramide EOP, Ceramide NP, Ceramide AP, Ascorbyl Extract, Water-Soluble Collagen, Hydrolyzed Collagen, Haematococcus Pluvialis Oil, Tomato Fruit Extract, Acetyl Hydroxyproline oil, tomato fruit extract, acetyl hydroxyproline, hydrolyzed white lupine protein, tocopherol, cholesterol, ethylhexylglycerin, tri(caprylic/capric) glyceryl, polyglyceryl-10 oleate, polyglyceryl-10 myristate, polyglyceryl-2 stearate Polyglyceryl-2 acid, Octyldodecyl myristate, Sucrose Stearate, Lecithin, Damask rose flower oil, Inulin lauryl carbamate, Oleic acid, Ethanol, Fragrance, Propynyl butyl carbamate iodide, Phenoxyethanol, Methylparaben

Precautions for use

Always use refills in the outer container.