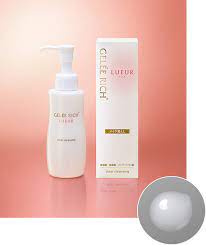 Joule Rich Lulule is designed to address the skin concerns that appear as we age from a variety of angles. It helps to maintain healthy skin, leading to radiant, glowing skin with a radiant glow.
The clear cleanser has a stop sign that indicates that makeup and unwanted stratum corneum have been lifted from the skin without putting any burden on the skin.

Even after rinsing off, the moisturizing ingredient (Polyquaternium-51) remains on the skin, leaving it moisturized and refreshed.
Contains gluconobacter/honey ferment to remove not only makeup and dirt, but also unnecessary stratum corneum, leading to clear and bright skin.
Contains glycyrrhizic acid derivative, aminocaproic acid, Japanese knotweed extract, rice ferment, and multiple anti-skin irritation ingredients to prevent skin irritation caused by various daily stimuli.
Contains trifluoroacetyl tripeptide-2, a firming ingredient born from the wisdom of skin research.
Contains the moisturizing ingredients Vibrio arginolyticus cultured liquid, Hypericum perforatum extract, and Artemia extract, carefully selected from secret locations around the world, to lead to beautiful skin.
Fragrance-free, colorant-free, mineral oil-free, non-alcoholic (no ethyl alcohol added), non-paraben
Patch tested with the cooperation of a person with sensitive skin
Allergy tested.
May not cause irritation or allergies in all people.

Directions for use

1. dispense 2 pumps into palm of hand and gently blend into skin. 2.
When makeup is lifted, your fingertips will feel light and fluffy. 3.
Rinse off with water or lukewarm water.
The stop sign usually appears in about 1 minute, but it may be difficult to feel depending on the makeup and skin condition of the day. If you don't feel the stop sign, please rinse off after 1 to 2 minutes.
Do not wet your hands or face.
Remove the stopper from the pump before use.
If you do not feel the stop sign, rinse off for 1-2 minutes.