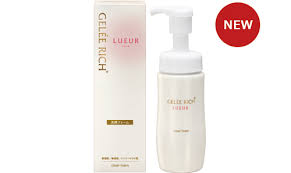 Joule Rich Lulule is designed to address the skin concerns that appear as we age from a variety of angles. It helps to maintain healthy skin, leading to radiant, glowing skin with a radiant glow.
Clear Foam is a foaming cleanser that gently cleanses the skin with fine, rich foam. It removes sebum and other dirt as well as unnecessary stratum corneum.

The moisturizing ingredients, geranium oil and orange oil, give it a pleasant scent.
After rinsing, the moisturizing ingredients (Polyquaternium-51) remain, leaving the skin free from dryness.
Contains glycyrrhizic acid derivative, aminocaproic acid, Japanese knotweed extract, and rice ferment to prevent skin irritation caused by various daily stimuli.
Contains trifluoroacetyl tripeptide-2, a firming ingredient born from the wisdom of skin research.
Contains the moisturizing ingredients Vibrio arginolyticus cultivar, Cercidiphyllum japonicum extract, and Artemia extract, carefully selected from secret locations around the world, to lead to beautiful skin.
Weakly acidic, fragrance-free, colorant-free, mineral oil-free, non-alcoholic (no ethyl alcohol added), non-paraben.
Patch tested with the cooperation of a person with sensitive skin
Allergy tested.
May not cause irritation or allergies in all people.

How to use

Wet your face beforehand, apply 2-3 pumps of foam to your palm, and gently wash your face as if you were wrapping your entire face. 2.
After washing, rinse well with water or lukewarm water.
When using, press the pump several times until foam is produced.
Do not tilt the container sideways or use it upside down.
Do not shake the container.
After use, keep the pump mouth clean and store with the stopper attached.