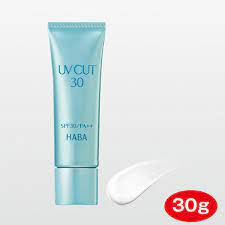 Cleansing-free sunscreen! No UV absorbers, no additives*1.

Contains skincare ingredients to help prevent skin stress caused by the environment*2. It also contains the moisturizing ingredient squalane to prevent dryness and damage caused by UV rays.
This fresh gel-type product spreads lightly and is easy to apply. It can be easily removed with facial cleanser, making it convenient for daily UV care.

~Skin care ingredients
Himalayan raspberry root extract 3
Himalayan raspberry root extract 3
Citrus aurantium root extract 3
Bilberry leaf extract4
Squalane*3

30g (Sunscreen) SPF30/PA+++ Unscented

When using sunscreen and makeup base together, use sunscreen, makeup base, and foundation in that order.
Remove with cleanser after use. (UV Cut 30 can be removed with a cleanser when used alone.)

*1No preservatives, parabens, petroleum surfactants, synthetic fragrances, mineral oils, or tar-based dyes *2Dryness, dust, and dirt *3Moisturizing ingredients *4Skin conditioning ingredients
4 Skin conditioning ingredients *Non-comedogenic tested *This does not mean that all people will not develop comedones (the source of acne).