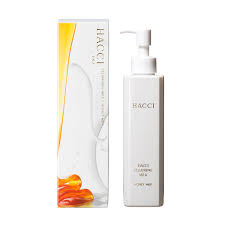 Bon appétit, HACCI's five-star cleansing products!
〜All beauty starts with washing...

Three types of honey-based cleansing products!
You can choose the one that best suits your mood, skin condition, and makeup intensity.
It's like washing with a beauty essence! The magic of milk that melts your heart!

1. Unstoppable moisturizing power
Contains more than 85%** beauty essence ingredients such as honey, royal jelly extract, silk*, olive oil*, etc., to leave your skin feeling fresh and clean.

2. Cleanses while caring for your skin
Contains Argan oil (Argania spinosa kernel oil), natural vitamin E (tocophenol), and other beauty ingredients. It gently removes dirt and grime while caring for your skin after a hard day's work, leading to beautiful, flawless skin.

3. Texture and fragrance... Milk that brings happiness
The soft and mellow texture gently blends into the skin as if it had softly landed on it. The sweet and sensual scent of honey milk will make your skincare routine a happy time.

* indicates moisturizing ingredient ** indicates water content

How to use

Massage an appropriate amount into skin and gently blend with makeup, then rinse with water or lukewarm water.


Storage and Handling Precautions

Keep out of the reach of infants.
Do not store in extremely high or low temperatures or in direct sunlight.