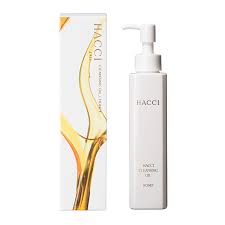 Bon appétit, HACCI's five-star cleansing products!
〜All beauty starts with washing...

Three types of honey-based cleansing products!
You can choose the one that best suits your mood, skin condition, and makeup intensity.
No rubbing, no scrubbing!

1. Quickly removes makeup with just a touch.
Two types of coconut-derived oils* with water-holding properties are blended with a maximum amount of honey**.
It separates make-up without rubbing and quickly removes dirt even with a small amount.

2. More than 95% plant-based
Carefully selected plant-derived ingredients are blended to remove makeup while caring for your skin after a hard day's work.
The skin is moisturized after washing. Your skin will be moisturized after washing.

3. A fragrance that melts your heart
The golden oil has a mellow scent of orange, cedarwood, and Japanese cedar essential oils with HACCI's original flavor.

How to use

Apply an appropriate amount (2-3 pumps) to palm of hand, massage onto face, and rinse with water or lukewarm water.


Precautions for use

Use with caution to avoid skin irritation. Discontinue use if any of the following occur. If you notice any of the following symptoms, discontinue use of the product and consult a dermatologist.
If any of the following occurs during use: redness, swelling, itching, irritation, loss of color (white spots, etc.), or darkening.
If any of the above symptoms occur when the skin is exposed to direct sunlight.
Do not use if you have any skin problems, such as scars, rashes, or rashes.
Do not use if you have scars, rashes, or other skin problems. If you notice any abnormalities (such as blurred vision), consult an ophthalmologist.


Storage and Handling Precautions

Use the product for about one and a half months.