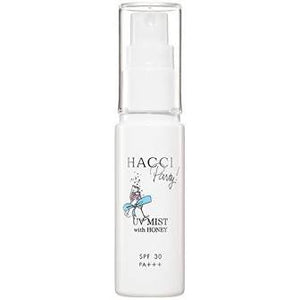 1.Thoroughly protects the skin with W veil and W beauty ingredients
A double veil of hyaluronic acid and AquaSeria®², a non-chemical UV scattering agent, block damage. Two beauty ingredients that protect the skin from environmental stresses¹ are added for fresh, hydrated, and supple skin.
2.
For moisturized beautiful skin
With just a swipe, beauty ingredients such as moisturizing honey⁴, natural plant extracts⁵, and water-soluble proteoglycans⁴ fill the skin with moisture for a clear, radiant look.
3.
Gentle, non-chemical mist
The mist is soft and non-chemical, so it can be used by people with delicate skin and children.
4.
Regular size (30mL)
A convenient portable size that can be carried in your pouch.
The powdery floral scent of iris, violet, and other soft scents is wrapped in a calming musk for a clean scent.


*Due to external factors such as UV rays and dryness.
*²UV scattering agent consisting of cerium oxide, platinum and water
*³ Skin conditioning ingredients Alteromonas Ferment Extract and Phaeodactylum Trichornutum Extract
*⁴ Moisturizing ingredients
*⁵ Skin conditioning ingredients

Directions for use

Shake the container well before use.
When using, close your eyes and spray an appropriate amount all over your skin, about 30cm away from your skin. Afterwards, gently press the product into the skin with your hands.
If you sweat or spend a lot of time outdoors, it is recommended to reapply every 2 to 3 hours.