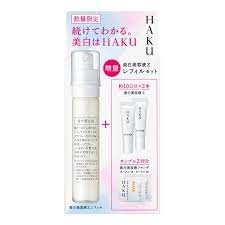 Continue reading Serum Refill Set
Keep trying and you'll see. HAKU for whitening.
Whitening Essence Z Refill Set.
Suppresses melanin production to prevent spots and freckles.

Set includes
Melano Focus Z (quasi-drug) Refill for replacement 45g
Melano Focus Z (Quasi-drug) Special size 6g x 2 bottles
Melano Focus F Ochre 10 (quasi-drug) foundation and beauty essence
 Trial sample 0.3g x 1 time use
Melano Focus F Ochre 20 (Quasi-drug) Foundation and Essence
 Sample: 0.3g x 1 time use

Usage and Dosage

Apply daily in the morning and evening after toning the skin.
Apply 2 pumps of the dispenser to the palm of your hand and apply to 5 areas of your face (cheeks, forehead, nose, and chin).
Start with the larger areas such as the cheeks and forehead, and work your way outward from the center of the face, focusing on the areas of concern.

For the special size (6g), place a pearl-sized amount on your fingertip.