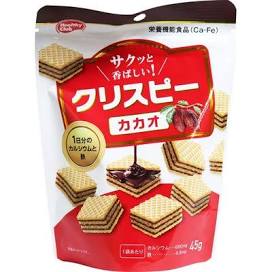 Food with nutrient function of calcium and iron.
Each pouch contains enough calcium and iron for one day.

How to use

Take approximately 22.5g (1/2 sachet) per day.
Allergens in the ingredients: egg, milk, wheat, soybeans.

Ingredients ・ Ingredients

Wheat flour, sugar, vegetable oil, whole milk powder, lactose, cocoa mass, cocoa powder, eggs, glucose, salt/egg shell Ca, Ca carbonate, emulsifier (derived from soybeans), flavoring, iron pyrophosphate, dilatant

Nutrition Facts

Nutrition Facts (per 22.5g)
Energy ... 110kcaL
Protein ... 1.4g
Fat ... 5.0g
Carbohydrate・・・14.9g
Salt equivalent ... 0.05g
Calcium ... 340mg
Iron ... 3.4mg

Precautions for use

Percentage of the amount of nutritional ingredients with labeled functions included in the recommended daily intake to the nutrient labeling standard (2015) (18 years old or older, standard calorific value 2200 kcaL): calcium 50%, iron 50%.
This product is not intended to cure any disease or improve health by high intake. Please follow the recommended daily intake.
Please follow the recommended daily intake.
Unlike food for specified health uses, this product has not been individually reviewed by the Commissioner of the Consumer Affairs Agency.
Calcium is an essential nutrient for the formation of bones and teeth.
Iron is a nutrient necessary for the production of red blood cells.
This product is manufactured in the same facilities as products containing peanuts. (Specified raw materials are listed here.)
This product contains cocoa ingredients. When exposed to high temperatures, the fat and oil may melt and the fat and oil may harden into white. The product can be eaten, but the flavor will be inferior.
Please consume as soon as possible after opening the package.

Storage and handling precautions

Store away from direct sunlight, high temperature and high humidity.