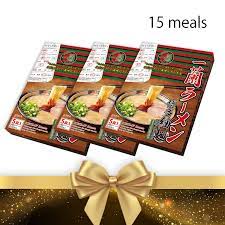 11/11 Limited Price Special Offer Set] Ichiran Ramen Hakata Thin Noodles 5 Servings, Ichiran's Special Red Secret Powder 3pcs Set

"Ichiran is the world's best researcher of tonkotsu (pork bone) ramen, and after many years of trial and error, we have created a souvenir worthy of the name.
Hakata's unique thin noodles, developed by Ichiran, are incomparable to any other noodles in Japan, with excellent firmness, smoothness, and rich flavor.
The soup has no odor and has the original taste of tonkotsu (pork bone) with a rich flavor.

We hope you will enjoy the taste of this soup at home.

What is the "red secret powder" included in the package?
It is not just a single flavor.
We have selected and blended it from a variety of spices including chili peppers.
It has been blended and fine-tuned many times to achieve a perfect balance with our unique technology.

Ingredients ・ Raw materials

Soup: wheat, pork, soybeans, Hakata fine noodles (dried noodles): wheat

Storage and handling precautions

Please consume as soon as possible after purchase.