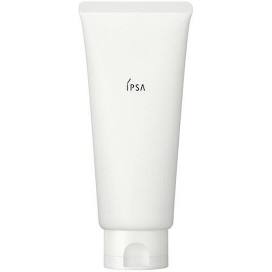 The soft cream blends into the foundation that adheres to the skin's texture and removes dirt and grime with a massaging sensation.
It comfortably frees the skin after makeup and allows the skin's texture to rest.
Massage onto face to blend with makeup and dirt, then wipe off or rinse with water or lukewarm water.

It will leave your skin moist, smooth, plump, and bright.

(High cleansing power for speedy removal)
Contains shield-off oil for shield effect (special film formation technology). It also removes Ipsa's foundation, which adheres to the skin and is difficult to break down, quickly and securely.

Protects moisture and removes it in comfort and ease.
The Water Hold EX effect locks in moisture in the skin to remove makeup while protecting moisture. Gently massages the skin to promote blood circulation while removing makeup. It can be used either by wiping off or rinsing off, and leaves the skin feeling moist and non-greasy after use. It also helps to keep the skin clean and prevents acne from forming.

How to use

Dispense a cherry-sized amount (about 2.5g) onto your hands and spread over your face.
Be sure to use clean, dry hands and face.
Starting with large areas such as the cheeks and forehead, massage in a spiral motion to blend in makeup and dirt.
Use your fingertips to carefully massage into fine areas, especially the sides of the nose.
Then, wipe off with tissue paper or rinse off with water or lukewarm water. After use, wash your face with a cleanser.