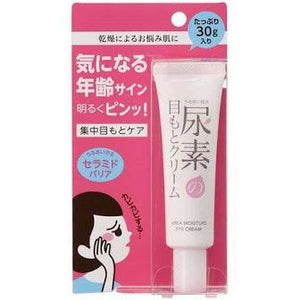 Freshly applied, long-lasting moisturizer. A cream for the delicate eye area. Urea attracts moisture, hyaluronic acid holds it in, and ceramide provides a barrier. The rich cream adheres perfectly to the skin for intensive care. It glides on smoothly and does not leave a sticky residue, yet remains bright and firm even after a long time. For a bouncy eye area. Contains no dyes, no fragrances, no mineral oil, no parabens, and 6 plant extracts.

Intensive eye care for dry, troubled skin. The skin around the eyes, which blinks about 20,000 times a day, is thin and has few sebaceous glands, so its barrier function is weak and it cannot store enough moisture. Dry eyes are more likely to show signs of age (*2). Urea Moist Eye Cream is a cream for the eye area that goes on smoothly and does not leave a sticky residue. Even after a long time, your eyes will look brighter and more vibrant! For a brighter, more vibrant eye area.

2: Skin that lacks firmness and luster and has an uneven texture.

How to use urea moist eye cream At the end of moisturizing care such as cream, dispense an appropriate amount onto clean hands and gently press with the palms of your fingers. Use your middle or ring finger to apply.

This product is dye-free, fragrance-free, mineral oil-free, and paraben-free. Urea and Ceramide Power

Urea and Ceramide are natural moisturizing ingredients found in the body. One gram of ceramide can hold up to 6 liters of water, which is enough to keep your skin soft and supple. It acts as a barrier in the stratum corneum to keep moisture in the skin. It is also a bouncer that protects your skin from external stimuli. You did it! Moisturized skin!