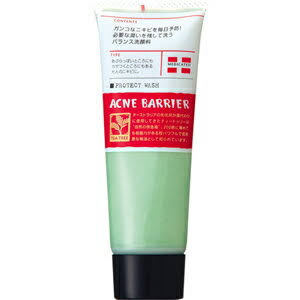 Are you unable to enjoy wearing makeup because of acne? To prevent makeup and sebum from remaining in your pores and causing acne, make sure your skin is back to zero at the end of the day. Acne Barrier Medicated Protecting Makeup Clear N is a makeup cleanser that easily cleanses deep into pores without straining. The soft gel envelops makeup and removes it thoroughly. It gently removes not only makeup but also excess sebum deep inside pores that cause adult acne and stickiness.

Removes makeup and leaves skin smooth and acne-free. Removes makeup and leaves skin smooth and acne-free.
Countermeasures
Adult acne is something you want to hide with foundation when it bothers you. For delicate adult acne, oil-free base is recommended. Daily cleansing will make your skin less prone to acne.

Formulation

Mild gel base that spreads smoothly on the skin and softly blends with makeup and dirt. While protecting the skin's moisture, it gently removes sebum from deep within the pores and firm eye makeup. It leaves no sticky residue and leaves your skin feeling clean and refreshed.
The power of tea tree and herbs
Hypoallergenic, powerful yet gentle action of tea tree (moisturizing)

Tea tree is an essential oil that has been used in Australian homes since ancient times.
The acne barrier is so powerful that it can control acne and pimples, yet it is hypoallergenic.
It has a refreshing scent that will refresh even the heaviest of moods.
Moisture replenishing natural herbs that support the work of tea tree

Lavender, Rosemary, and Eucalyptus, natural herbs that help tea tree work

How to use

Apply a small amount to dry skin, blend with makeup, then rinse with lukewarm water.
Rinse thoroughly. Rinse thoroughly, especially on pores and oily areas.
point

Use an appropriate amount.
Remove mascara and other point makeup first.