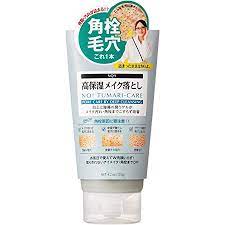 We have created a luxurious makeup remover with rare volcanic ash white clay and mineral-rich seaweed that rose from the ocean floor about 400,000 years ago.
It glides easily into pores for deep cleansing! Gently cleanses and moisturizes the skin.
1 Silica AI (cleansing and adsorbing ingredient) *2 Brown algae extract (moisturizing ingredient)

Gently thickens on the skin!
If the gel is hard, it is hard to spread and difficult to blend.
If the gel is hard, it is difficult to spread and blend. If the gel is soft, it is easy to blend but tends to rub the skin...
To address these concerns about gel cleansing, SQS High Moisturizing Makeup Remover is made to feel moist.
This cleansing gel has been tested repeatedly to ensure that it is neither too hard nor too soft for the skin.
No more clogged eye makeup! For sebum and makeup stains in keratinized pores that tend to clog daily!
What is volcanic ash white clay?
Volcanic ash white clay is a valuable ingredient that is extracted from a small part of the Kagoshima Shirasu stratum, which was uplifted by volcanic activity and crustal movement from the seafloor about 400,000 years ago. Because the stratum was originally the sea bed, it contains a lot of minerals derived from the ocean. This luxurious volcanic ash white clay is finely ground to the micron level and blended into SQS High Moisture Makeup Remover.

Pore smoothing! Contains moisturizing ingredients such as collagen and hyaluronic acid, and skin beautifying ingredients such as vitamin C derivative (ascorbyl tetrahexyldecanoate) and loofah extract. Contains no synthetic dyes, no mineral oil, no fragrance, alcohol-free, non-paraben, and mild formula that is gentle to the skin.

How to use

How to use SQS High Moisturizing Makeup Remover
You can use it even if your hands and face are wet. Take a small amount and massage into skin, focusing on areas where makeup and pores are bothering you.
Once makeup is lifted off, rinse carefully without rubbing.
Finally, rinse with cold water to tighten the pores.

No need to wash your face.
If you prefer a more refreshing cleansing experience, we recommend using SQS High Moisturizing Soap after cleansing.