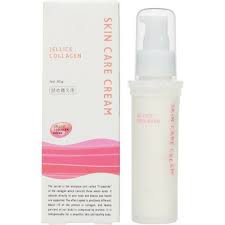 Collagen Skin Care Cream is a cream with a smooth texture that leads to youthful, firm and elastic skin from the very beginning.
It melts into the skin and plumps up pores and fine lines! The cream delivers moisturizing moisture to the deepest layers of the skin, leaving it soft and supple.
In addition to collagen and tripeptide, it also contains hyaluronic acid, which has excellent moisturizing power, stable vitamin C, which prevents skin oxidation and melanin production, glycyrrhizic acid, which reduces skin inflammation, and ceramide, which improves skin texture and barrier function.
The longer you use it, the more elasticity and firmness will be restored.
Refill.

If you have any questions about this product, please contact


How to use

How to refill
Put the refill into the container (main body) and turn the ring of the container to fix it firmly.

After applying lotion, dispense 1 to 2 pumps into clean palms and apply gently to face, neck, and décolleté.
Gently apply to face, neck, and décolleté.