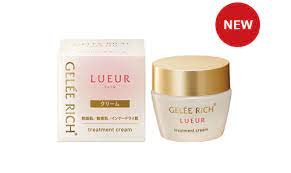 GELLE RICH Lulule is designed to address the skin concerns that appear as we age from a variety of angles. The treatment cream is a light yet rich cream that loosens the skin and reduces the appearance of aging skin.
The Treatment Cream is a light yet rich cream that loosens the skin and plumps up the skin that becomes thinner with age.

It moisturizes the skin and reduces the appearance of fine lines and wrinkles caused by dryness. This product has been tested for efficacy.
This product is also recommended as a spot treatment for areas where dryness is a concern.
Contains glycyrrhizic acid derivative, aminocaproic acid, Japanese knotweed extract, and rice ferment to prevent skin irritation caused by various daily stimuli.
Contains trifluoroacetyl tripeptide-2, a firming ingredient born from the wisdom of skin research.
Contains the moisturizing ingredients Vibrio arginolyticus cultivar, Cercidiphyllum japonicum extract, and Artemia extract, carefully selected from secret locations around the world, to lead to beautiful skin.
Weakly acidic, fragrance-free, colorant-free, mineral oil-free, surfactant-free, non-alcoholic (no ethyl alcohol added), non-paraben
Patch tested with the cooperation of a person with sensitive skin
Allergy tested.
It May not cause irritation or allergies in all people.

Directions for use

After toning and conditioning your skin with lotion or beauty emulsion, use the included spatula to dispense the equivalent of one pearl grain (8 mm in diameter) onto your hand and smooth over your face and neck. 2.
It can also be used as a spot treatment for areas of dryness and skin conditions.